This enchanting estate includes a 15th century castle with 13 bedrooms, 10 bathrooms, a banqueting hall, library, family museum and an 'oubliette' (a secret dungeon), as well as two adjoining self-contained wings. In addition, there are also nine estate cottages, extensive grounds and policies including an arboretum, commercial and amenity woodland, farmland, and trout fishing rights on the River Nairn.
As the original seat of the Clan Rose, Kilravock Castle is believed to date from about 1460, when the then Baron of Kilravock built a defensive tower on the site. The Castle has played host to a wide range of historic figures including Mary Queen of Scots in 1562, her son King James the 6th (and 1st) in 1598 and most famously Prince Charles Edward Stewart (Bonnie Prince Charlie) who dined with the Laird of Kilravock at the castle in the lead up to the Battle of Culloden, the last pitched battle held on British soil in 1746. 
Extraordinarily, this visit was said to be followed shortly thereafter by a visit from his adversary, the Duke of Cumberland.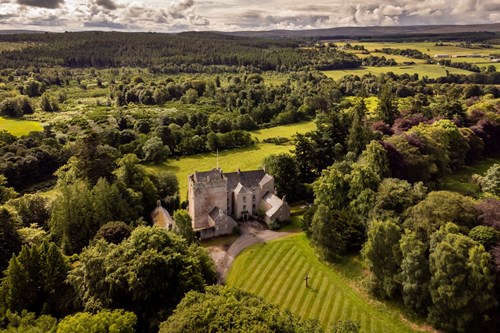 Robert Burns stayed at Kilravock in September 1787, and praised the beauty of the setting in a letter to Elizabeth Rose, the 19th Baroness : "The beautifully wild scenery of Kilravock – the venerable grandeur of the castle – the spreading woods – the winding river…. lingering with apparent delight as he passes the fairy walk at the bottom of the garden."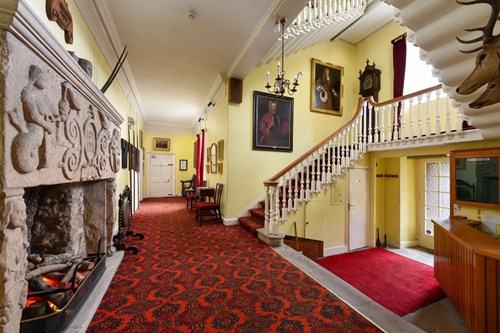 Rod Christie, a partner with Galbraith, said: "Kilravock is one of the most fascinating and historic properties in Scotland. Having essentially remained in the same ownership for centuries, the Estate and in particular the castle, have retained much of the character and charm one would hope to find in a property of this nature.  We anticipate significant interest from within the UK and further afield.
"Further, the land and buildings offer an excellent range of opportunities to the purchaser to pursue a variety of interests and all against the backdrop of the beautiful Strathnairn valley setting and in such close proximity to a wide range of amenities, including Inverness Airport some 10 minutes away."
Kilravock Castle Estate is centred on the historic category 'A' listed Kilravock Castle and policies which sit among woodland and farmland in the stunning Nairn Valley. In addition to the Castle, the Estate comprises a let farm; nine cottages many of which are occupied by tenants; various estate buildings including a former hostel, a games hall and a mix of amenity and commercial woodland.  In total, the Estate extends to 194.36 ha / 480.27 acres.
Sitting in an elevated position overlooking the River Nairn and its valley, the estate enjoys a private and peaceful position yet is easily accessible to Inverness (6 miles) and Inverness Airport (7 miles).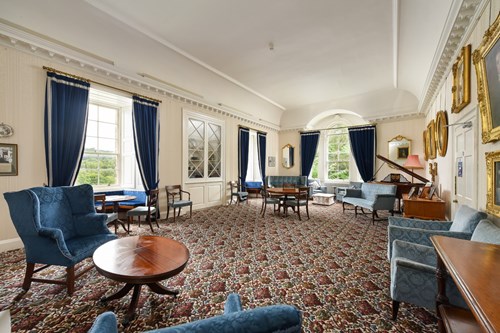 Dating from approximately 1460 and rumoured to be designed by Cochran, a servant of King James III who designed Cawdor Castle nearby, the castle has been added to over the centuries and now offers extensive accommodation over six floors, principally between the original tower and the 16th century adjoining mansion. 
At basement level, there are two kitchens, various larders and stores and the Estate office.  On the ground floor is a stone vaulted room most recently used as a chapel, the reception hall, a third kitchen, dining room, a magnificent drawing room and an adjoining turret  room. On the first floor, the main landing leads to four bedrooms, two of which have en suite facilities, in addition to two further bathrooms. 
Within the older tower section is the original banqueting hall complete with a fireplace and oubliette (secret dungeon).  From the banqueting hall, a door leads to the library.  The second floor has six further bedrooms, five of which have en suite facilities in addition to two other bathrooms.  A third and fourth floor, partly within the original tower, provide two / three further bedrooms, the Rose family museum and a bathroom.  The original tower contains a spiral staircase built within the outer wall that also leads to a roof section. 
The East Wing comprises two self-contained apartments, both of which have two bedrooms (en suite), a living room, bathroom and kitchen.  In the past, these have been used as staff accommodation.  The West Wing has four bedrooms, a living room and kitchen and is let on a Short Assured Tenancy. 
Surrounding the castle are the garden and polices which include a wonderful arboretum with a magnificent Giant Sequoia, Sitka Spruce and Kissing Beech (a rare example of a layered Beech, possibly one of only a handful left in the UK).  Within the arboretum is a summer house, whilst the policies also include  a squash court and tennis court, all of which are in a poor state of repair. An 'A' listed dovecote is adjacent to the Castle.
There are various houses and buildings on the estate, including:
The Granary –a  traditional slate and stone building which was previously a hostel / bunkhouse when the Estate regularly hosted Youth Camps and Christian retreats.
Rose Cottage – a  three-bedroom cottage in need of modernisation.
Rosehall House and Hall – the  hall measures 14m x 7m, with a stage and two store rooms, and is suitable for hosting community events.  The adjoining cottage has four bedrooms. 
Ealasaidh – a modern bungalow with four  bedrooms (one en suite); with an adjoining double garage.    
Kilravock Mains Farmhouse – a  charming traditional stone and slate built farmhouse, with three bedrooms.   Attached to the house is an outbuilding and the property has its own garden. 
Kilravock Farm Steading – the  original estate steading  is in poor condition but offers great scope for development (subject to obtaining all necessary consents).
Gardener's Cottage and Former Walled Garden – a delightful traditional house with a mature garden.  Lying immediately adjacent is the wonderful walled garden which extends to about 1.8 acres with a lawn and an area for vegetables and flowers.
Clephanton Cottages No 6 and no 7 – two grade B listed semi-detached cottages in the hamlet of Clephanton. 
Smithy Cottage – a  further attractive traditional cottage in Clephanton, with three bedrooms.
To the rear of the property is a large metal works/ blacksmith's yard with several sheds. 
Keeper's Cottage, Balcroy – a charming detached former keeper's cottage.  Surrounding the cottage is a generously sized garden with areas of lawn and amenity woodland.
The farmland extends to about 70.7 Ha / 174.7 acres and is currently let on a Limited Duration Tenancy.  The land itself is predominantly down to grass with one field of spring barley.  Through the park land there are several large hardwood trees, with Beech avenues dividing the fields.
The estate has varied woodland at different stages of growth, including a mix of commercial and amenity plantings.  An approximate calculation gives the overall wooded area at 91.7ha / 226 acres including areas of clear-felled / restocked forestry.  In addition, there are areas of amenity woodland, mainly in and around the Castle with mature stands of Oak, Birch and Beech. 
The popular coastal town of Nairn is 7 miles to the northeast, while Inverness is only 11 miles away. Inverness airport, 6 miles away, offers regular flights to London, other UK and European destinations.
Kilravock Castle is for sale as a whole through Galbraith for a guide price of £4,000,000.