The block of bare land extends to some 78.04acres (31.58 hectares) and is suitable for a wide variety of sporting, agricultural, natural capital and amenity purposes.
Burreldale Moss consists of a contiguous block of land classified primarily as Grade 5(3) with areas of Grade 4(2) according to the James Hutton Institute.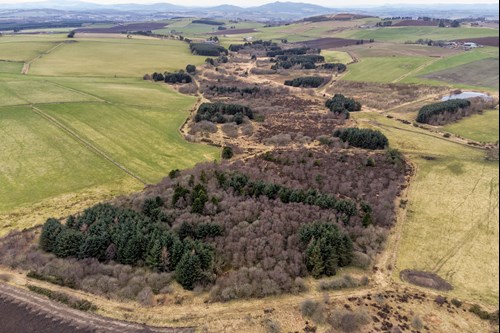 Ian Armstrong, handling the sale for Galbraith, said: "The land at Burreldale Moss has historically been managed as a pheasant shoot and therefore benefits from well-connected internal and perimeter tracks. Pheasant pens which are located centrally, and the site has been strategically planted with strips of forestry to maximise the quality of sporting drives. A proportion of the land has historically been cultivated and planted in game crop.
"This is prime land for those with a keen sporting interest in a very convenient location. The pheasant shoot benefits from a range of drives previously operated by a local syndicate. Alternatively, this sale offers an interesting proposition for those keen to extend their current agricultural holding or for interested parties looking to explore natural capital opportunities."
Burreldale Moss is conveniently situated 3.5 miles north west of Inverurie, 2.5 miles south east of Oldmeldrum and 13.5 miles from Aberdeen. The area is well resourced in terms of sporting, forestry and agricultural infrastructure and the land also benefits from nearby access from the public road network.
Burreldale Moss, Inverurie, Aberdeenshire, is for sale through Galbraith at offers over £235,000.