Larry is an experienced adviser on rural valuation, professional and management work, specialising in telecoms, compulsory purchase and renewable energy. He will work in Galbraith's growing Energy and Utility team, working on compulsory purchase and compensation, telecommunications code agreements negotiations. He will also deal with renewable energy projects, management of farms, estates and agricultural holdings and contract farming arrangements.
A seasoned adviser to financial institutions and private and corporate clients, Larry has built a reputation for his expertise in projects ranging from significant renewable energy schemes and cable routes to negotiating terms for development of land. He is experienced in dealing with the Electronic Communications Code and negotiations with telecommunication operators, addressing proposed Code agreements, and is an expert witness in associated legal proceedings.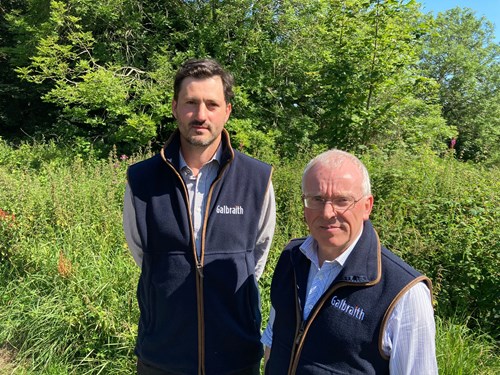 Larry Irwin (L) Ian Thornton-Kemsley (R) make up the Energy team in Aberdeen.
Larry advises on compulsory purchase orders (CPOs) and on matters ranging from strategic development sites to road schemes. He provides counsel on processes, attending to necessary preparation and submission of reports and collation of wider input where necessary from other specialist advisers such as planners, solicitors and accountants.
"I am excited to join the Galbraith team as I know them well from work over the years and have seen how effective they are in creating value," said Larry, a Scottish Agricultural Arbiters & Valuers Association Council member and Fellow of the Central Association of Agricultural Valuers. "I'll work alongside my colleagues to achieve the best results for clients."
Larry has been involved in several Scottish Lands Tribunal cases, preparing preliminary and final reports in anticipation of disputes and providing evidence to the Tribunal over the years.
His appointment at Galbraith follows that of his former colleague Ian Thornton-Kemsley, a senior property and telecoms expert, with whom he will now work again.
Mike Reid, Head of Galbraith's Energy division and a specialist adviser on renewable developments and telecoms, said: "We are building an expert team at Galbraith to ensure owners, managers, companies and institutions receive the best advice and support in negotiating the property, rural, energy, environmental and communication issues that are part of our evolving economy."