Finegand Estate in Glenshee, known as the Glen of the Faeries, lies within the Cairngorms National Park, an area of immense natural beauty.
The diverse Highland estate provides farming, forestry, sporting and conservation interests, centred on the original Finegand Farmhouse with a range of traditional farm buildings, six further traditional cottages and a further former steading at the north end of the estate, offering a potential development opportunity.
The property is for sale for offers over £5,000,000.
The estate extends to about 1,960 acres (793.87 hectares), with a mix of hill ground, productive and native woodland, diverse habitats for a range of native flora and fauna and permanent pasture.
Emma Chalmers, a partner with Galbraith, who is handling the sale said:
"Finegand Estate is a superb estate located in an  iconic Scottish setting. With its expanse of in-bye and hill lands, diverse and highly varied wildlife and woodland, there are numerous opportunities for the purchaser, whether to create a sizeable upland livestock farm or for traditional country sports or conservation projects including potential further woodland creation and indeed given its setting, eco-tourism related enterprises.
"Finegand offers an excellent range of opportunities to the purchaser to pursue a variety of interests and priorities with the backdrop of its highly scenic Highland setting."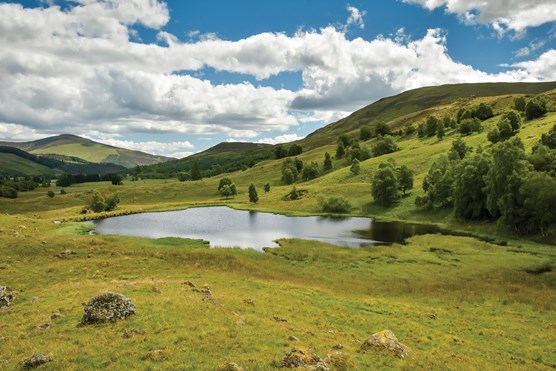 Finegand Estate is home to a diverse range of flora and fauna, including orchids which are of particular note at Tigh an Eillen at the southern end of the estate. There is an abundance of native wildlife ranging from sightings of merlin, short-eared and long eared owls and occasional sightings of golden eagle to red grouse, teal, mountain hares, otters and red squirrel.
The estate offers a potential principal house at the original Finegand Farmhouse, which has a superb range of traditional buildings including a roundel, all offering great potential for alternative use if required and commanding a superb outlook over the estate. There are six further traditional cottages. 
The lands at Finegand comprise permanent pasture, rough grazings, heather hill and woodland, rising from about 310 metres above sea level on the banks of the River Shee to about 794 metres at its highest point at the top of Meall Uaine.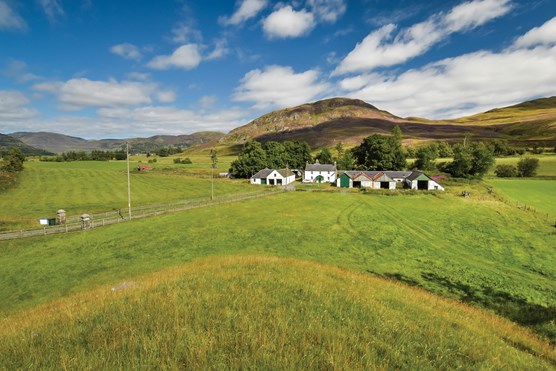 The  estate offers a range of traditional sports: red, roe and fallow deer stalking together with walked-up grouse shooting currently; however there was formerly a driven grouse moor and the butts are still in-situ and currently undergoing a programme of refurbishment. In addition, Finegand also offers potential to develop a low ground shoot, including duck flighting.
The farming enterprise is currently run in hand and with a shepherding contract arrangement for 500 ewes. The farming could be expanded, given the mix of in-bye and hill ground available, together with the existing farm buildings and potential to build modern buildings if required.
At the northern end of the estate is a delightful small lochan stocked with brown trout, offering a superb setting for fishing and picnics, with spectacular views over the estate and surrounding countryside.
Finegand Estate is for sale through Galbraith as a whole for Offers Over £5,000,000, or in two lots as follows:
Lot 1 – extends to about 787.81 hectares (1946.73 acres) and comprises 6 cottages, a former steading range and land of permanent pasture, rough grazings, hill ground and productive and native woodlands; Offers Over £4,500,000.
Lot 2 – Finegand Farmhouse with traditional farm buildings and about 6.06 hectares (14.97 acres); Offers over £500,000.
HISTORY
Finegand has been owned by successive generations of the family since before 1712.
Finegand Estate is much larger than the original landholding, following the addition of the Corrydon and Dalhenzean lands some 100 years ago.
Driven grouse shooting was enjoyed for many decades at Finegand and in the mid-sixties it was named by Country Life as the best small grouse moor in Scotland, with a member of the Roosevelt family enjoying a walked-up day.
Glenshee has been used for centuries to access the Highlands and Deeside including by the Royal Family travelling to Balmoral. Indeed, Queen Victoria's coach once got into difficulties on the 'Lair Brae' which was a notoriously steep and difficult part of the road near Finegand. The Laird of Finegand came to her rescue and helped her on her way.
The route was often used by our late Queen and her mother to travel between Glamis and Balmoral. The ford at Tigh na Coile on Finegand was one of the more perilous parts of that journey and indeed it caught them out once when the Princess Elizabeth was about 5 years old and the river was just a bit too deep for their car!