Energy regulators are moving ahead with plans to revamp Britain's electricity grid to remove costly and environmentally damaging barriers to the growth of offshore wind generation.
Ofgem launched the Offshore Transmission Network Review (OTNR) In July 2020 to "deliver better co-ordination of offshore transmission and interconnection". Subsequent events have afforded the programme a higher priority than previously.
The UK's ambitious target of producing 40GW of power from offshore wind by 2030 was increased to 50GW by the Prime Minister in April 2022 as part of the British Energy Security Strategy announcement.
The national objective of achieving net zero greenhouse-gas emissions by 2050 made clear that the current commercial and regulatory regimes were hampering the ability of developers to progress their projects quickly enough, at costs that would not be prohibitive.
Currently, each offshore wind project is connected to the grid onshore via its own transmission connection and the lack of coordination offshore – and onshore between projects – has hindered the speed of development.
The consultation continues and Ofgem has published updates on a number of areas setting out the potential framework for multiple points of interconnection (MPI) and the regulatory framework changes necessary.

In short, the current legislative framework and regulation preclude different projects from sharing transmission assets, leading to multiple and expensive onshore links, substations and connection points to the grid.
This in turn has environmental impacts both on and offshore, the greater disruption being onshore as the extra planning and environmental consenting required adds to development timescales, commercial risk and cost.
The review has sought input from industry and beyond and it is expected that further information will emerge in forthcoming months and years. The potential is to create an effective transmission network offshore, with strategic links to the South initially.
Changes envisaged are likely to involve significant complexity and some core decisions. Most windfarms generate electricity in alternative current that is then exported to the grid through project substations. Collecting electricity from multiple windfarms offshore would enable the scaling up of projects and potentially the use of direct current transmission, which is more efficient over distance and involves reduced energy loss and less cabling.
Converter stations may be required  at each end to turn AC generated power into DC and then back again for onshore transmission – the economics of efficiency of transmission in DC need to be balanced with the costs of conversion and the potential future structure of this offshore grid.
The plan below shows the scale of the industry and the geographical, environmental and political structures.
It is a large undertaking that requires engineering solutions, financial considerations, regulation and legislation – quite a handful of challenges.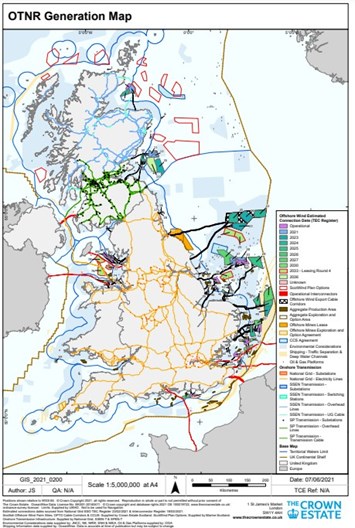 Read the latest on energy, renewable energy, utility, telecoms and rural affairs in issue 25 of Galbraith's Energy Matters