Farmers and landowners are increasingly concerned about the effects of the continued regulatory uncertainty affecting their activities.
Commenting on future policy, Paul Richardson of Scottish Land & Estates, said: "The apparent lack of progress is creating significant uncertainty for Scotland's farmers and land managers." Mr Richardson, the agriculture and climate change policy adviser at the landowners' and rural industry representative body, was accurately summing up the sentiments of many farmers.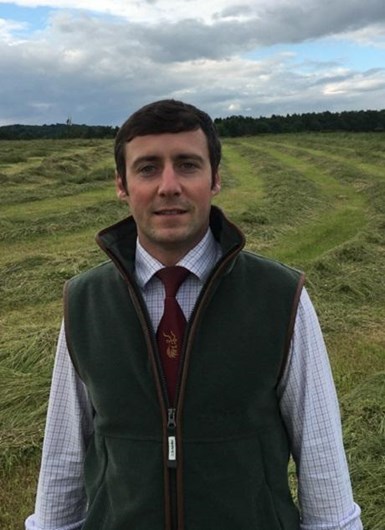 Paul Richardson (Image: Scottish Land & Estates)
Background
In addition to the Basic Payment Scheme (BPS) and greening payments – an evolution of the subsidies provided under the EU's Common Agricultural Policy, farmers are paid under the Agri-Environment Climate Scheme (AECS) to commit to management practices aimed at improving biodiversity, air and water quality.
This subsidy often influences the financial viability of farms, particularly smaller holdings, which often have limited cashflow and rely on the stability of direct payments to make strategic agri-business decisions. The scheme is being extended until 2024 but information is limited on what support payments will follow.
Agricultural subsidies now and in the future
A paper published by the rural charity Scottish Environment LINK (2021) has criticised the marked reduction in the budget allowance for the AECS from £42.7m in 2021 to £34.2m this year. This states that in the context of the climate emergency, and the lack of direction of future rural policy, the AECS budget should be increased to offer new agreements to more farmers and allow those on existing agreements more readily to renew them.
In March the Scottish Government published a paper detailing the rollout of a 'National Test Programme' to run on two 'tracks' – one creating a baseline that includes carbon and biodiversity audits, soil testing programmes and animal health/welfare plans; the second, though still vague on details, designed to reward farmers for the climate and biodiversity outcomes they deliver.
Stage 1 of the National Test Programme, Preparing for Sustainable Farming (PSF), providing funds for carbon audits and soil sampling and analysis, took place in the spring.
Agricultural policy
Details on farm subsidy payments after 2025 are scarce. The Agriculture Bill (Scotland) is currently undergoing consultation, with responses being collected until 21 November. An initial consultation paper, published in August, proposes a Vision of Agriculture Support Package Beyond 2025. The support package looks to offer four tiers of payments – two direct and two indirect. Whilst the support package seems promising, details about land management prescriptions and payments need be published sooner rather than later to avoid the sort of confusion that occurred with England's Environmental Land Management Schemes (ELMS).
*Natural Capital: Galbraith's expert advisers guide our clients in realising value in all land uses – by assessing and measuring natural assets, furthering opportunities in biodiversity net gain, and ensuring stakeholders are rewarded fully for their investment in and contribution to delivering ecosystem services and net-zero outcomes.