Consultations by electricity grid chiefs with local communities over planned major transmission infrastructure fall short of required standards.
Landowners affected by a proposed multi-million-pound network upgrade affecting the Mearns district between Aberdeen and Dundee should consider acting to secure a fair hearing and, if eligible, compensation.
SSEN Transmission, Scottish & Southern Electricity Networks' grid arm, is planning a 400kilovolt scheme to supply customers with renewable energy from onshore and large-scale offshore wind farms. The East Coast 400kV Phase 2 project includes 65 miles of new overhead line between Kintore and Tealing via Fiddes, a 400kV substation at Tealing and overhead line 're-conductors' between Alyth, Tealing and Westfield.
Affected residents gathered on in Pitarrow, between Stonehaven and Forfar, to discuss their response to the proposals with Andrew Bowie, Minister for Nuclear and Networks and Conservative MP for West Aberdeenshire and Kincardine, Mairi Gougeon, Cabinet Secretary for Rural Affairs, Land Reform and Islands and MSP for Angus North and Mearns, and George Carr, an Aberdeenshire local councillor. Also present at the meeting, organised by the Save our Mearns pressure group, was Galbraith.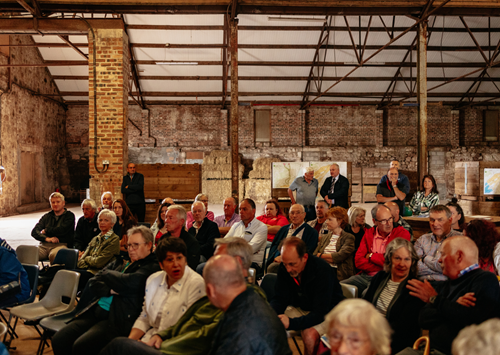 (Image from Louise Malcolm)
The Mearns route reflects a major policy change from SSEN's position in May 2020, when the energy network company said such a new line would have more environmental effects, be more costly to consumers and take longer than upgrading existing lines. There are unanswered questions about why SSEN has discarded other options and appears to be going for an entirely new line through unspoilt countryside.
Major nationwide works are required to serve growing demand for electricity and enable the UK's switch to renewable energy. That involves shifting from networks designed to carry electricity from coal, gas and nuclear generators to systems that serve the growing number of wind and solar farms around the country. It also means between 150,000 and 450,000 miles of additional transmission and distribution network across Britain, according to some sources.
National Grid said in March: "To meet the Government's target of 50GW of offshore wind by 2030, our industry must deliver more than five times the amount of transmission infrastructure in the next seven years, than has been built in the past 30 years."
Each of the tree alternatives route proposed by SSEN from Fiddes to Forfar runs through predominantly prime agricultural land – a category occupying only 8% of Scotland, said Mr Thornton-Kemsley. The plans involve vehicles travelling a 39-mile stretch, potentially risking the spread of pathogens such as Potato Cyst Nematode (PCN) and Clubroot in a key area for seed potatoes as well as daffodils and oilseed rape. In the past 10 years PCN-infected land has risen by 30% and unchecked, any continuation could fatally damage the Scottish seed potato industry.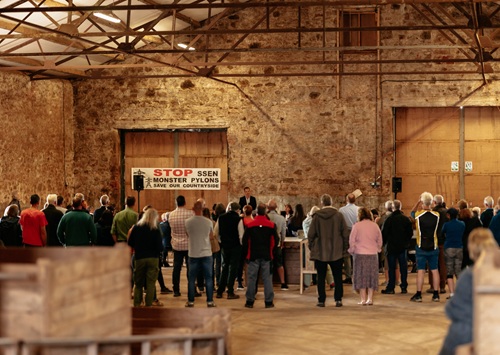 (Image from Louise Malcolm)
SSEN's contractors have demonstrated during surveys for this project they cannot follow their own biosecurity protocols – have we any faith they will follow the sort of biosecurity essential to protect agriculture in a project such as this? I think not.
Further, though the risk of exposure to magnetic fields and ill health is considered low, public perceptions may affect the marketability and future value of the property, so that houses close to pylon lines may be significantly devalued.
SSEN has yet to explain how it will fulfil its duty to mitigate any adverse effects its proposals may have on properties and natural beauty, and it is difficult to see how this is possible without the loss of further prime agricultural land. In my opinion the company's consultation to date, and the way it has gone about it, fall far short. Anyone affected by these changes should talk to us.